The Parade of Homes tour allows people looking in the Twin Cities housing market to find a builder that fits their needs and discover the newest in design, style, and décor. Even if you aren't currently looking to buy, the 2019 Fall Parade of Homes is a great resource to explore the possibilities for your dream home, discover new houses, and get inspired.
What is the Parade of Homes?
Parade of Homes is a biannual scattered site tour put on by BATC-Housing First Minnesota, a trade organization providing builders and remodelers with marketing, advocacy, and industry connections.
When is the 2019 Fall Parade of Homes?
The 2019 Fall Parade of Homes begins this weekend, September 7. Showcased homes are open and free for the public to tour anytime between 12 and 6 pm, Thursdays through Sundays, until September 29.
How Do I Find Featured Homes to Tour?
Search the Fall Parade of Homes listings by location, square footage, school district, floor plan, builder, and style. If you are searching for an eco-friendly house, look for Green Path models, which come with a Home Performance Report outlining their energy-saving features.
Then, save the homes you are interested in visiting to your Tour Plan from a desktop, laptop, tablet, or smartphone. Each listing has directions and links to view the address on Google or Apple Maps. Your phone can route to any home on your tour plan, and you can share it with friends, too!
Where Can I Find More Information?
Peruse the Parade of Homes guidebook online for event info, home maintenance tips, articles, and a directory or find a free print copy at your local Holiday Stationstore. You can also sign up for their monthly newsletter to stay informed on new homes, design trends, décor ideas, and more.
Wooddale Builders Parade of Home Models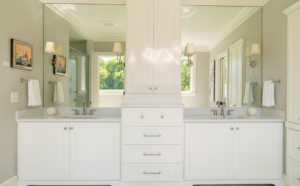 At Wooddale Builders, we're proud to have showcased our models in previous Spring and Fall Parade of Homes tours (see pictured) and their associated Artisan Home Tour. Beginning this weekend, we're showing some of our own most recent custom homes. Here's a quick preview:
#114 – 17007 Kerrick Court, Lakeville, MN
Located at Kenwood Place in Lakeville, MN, this home boasts ample storage, large windows, wood flooring, quartz countertops, a gas fireplace, and Trex decking. With three bedrooms, two and a half baths, an open floor plan, and gourmet kitchen with walk-in pantry, this luxury townhome offers idyllic maintenance-free living near scenic wetland areas.
#204 – 18015 Dell Drive, Eden Prairie, MN
Nestled in a quiet neighborhood in western Eden Prairie, this custom villa includes two bedrooms, two bathrooms, and a two-car garage. You won't want to miss touring this gorgeous open floor plan, including a great room with a three-sided fireplace and adjacent four-season porch. Just minutes from Eden Prairie Shopping Center, this villa development features easy access to highways, shopping, and walking and biking trails.
#247 – 17050 60th Avenue N., Plymouth, MN
This luxury townhome offers maintenance-free, main-level living with gorgeous views of rolling meadows that characterize the landscape surrounding the Stable Path neighborhood. Designed with an open floor plan, the home includes a vaulted great room, inviting gas fireplace, designer kitchen, and three-stall garage. Located minutes from retail, eateries, parks, and the Northwest Greenway Corridor, this townhome provides ample space with its two and a half baths and well-appointed master suite in addition to two additional bedrooms.
#248 – 17150 60th Avenue N., Plymouth, MN
Located in the award-winning Wayzata Public School District, this luxury villa includes a warm and inviting open floor plan with a four-season porch, designer kitchen with quartz countertops, professional appliance package, master suite with spacious spa-like bathroom, two additional bedrooms, two and a half baths, and a two-stall garage. Add this home to your tour plan to view its pristine craftsmanship and the latest in home design.
Explore even more of Wooddale Builders' available homes, villas, and townhomes in neighborhoods throughout the Twin Cities. If you're looking to start from scratch, trust Steve Schwieters and his team to design and build your dream home.
Contact us to get started or for more information about the 2019 Fall Parade of Homes. Don't miss this opportunity to appreciate the craftsmanship of some of the finest luxury home builders in Minnesota.